Brightness(Typ.) : 4,000 cd/m²
Bezel : 38.4 mm (T/B), 26.0 mm (L/R)
Interface : HDMI/ DP/HDBaseT/USB/ Audio/ RS232C/ RJ45
Slim Design
The XE4F series has a slim depth, allowing easy installation by using less space. An immersive view is attained while maintaining a sleek look.
SLIM & ROBUST DESIGN
Easy Integration for Customised Design
The XE4F series is ready to be customised for various customer needs and situational installations. From outdoor menu boards to kiosks, the XE4F series are also mount ready and adaptable to the industry, destination and use.
*Mounting hardware not supplied by LG.
OUTSTANDING VISIBILITY
High Brightness
The high brightness outdoor display maintains high picture quality and image readability in an outdoor environment.
OUTSTANDING VISIBILITY
Wide Viewing Angle
LG IPS panels allow you to enjoy lifelike picture quality with minimal variation from wide viewing angles. Featuring excellent consistency in colour temperature and less change in contrast, LG IPS panels boast excellent image reproduction.
OUTSTANDING VISIBILITY
Long Lasting Brightness
By adding more LED units, the XE4F series operates brighter at a lower temperature, thereby helping extend the life of the panel.

OUTSTANDING VISIBILITY
Visible with
Polarised Sunglasses
QWP* enables clear visibility even when the viewer is wearing polarised sunglasses.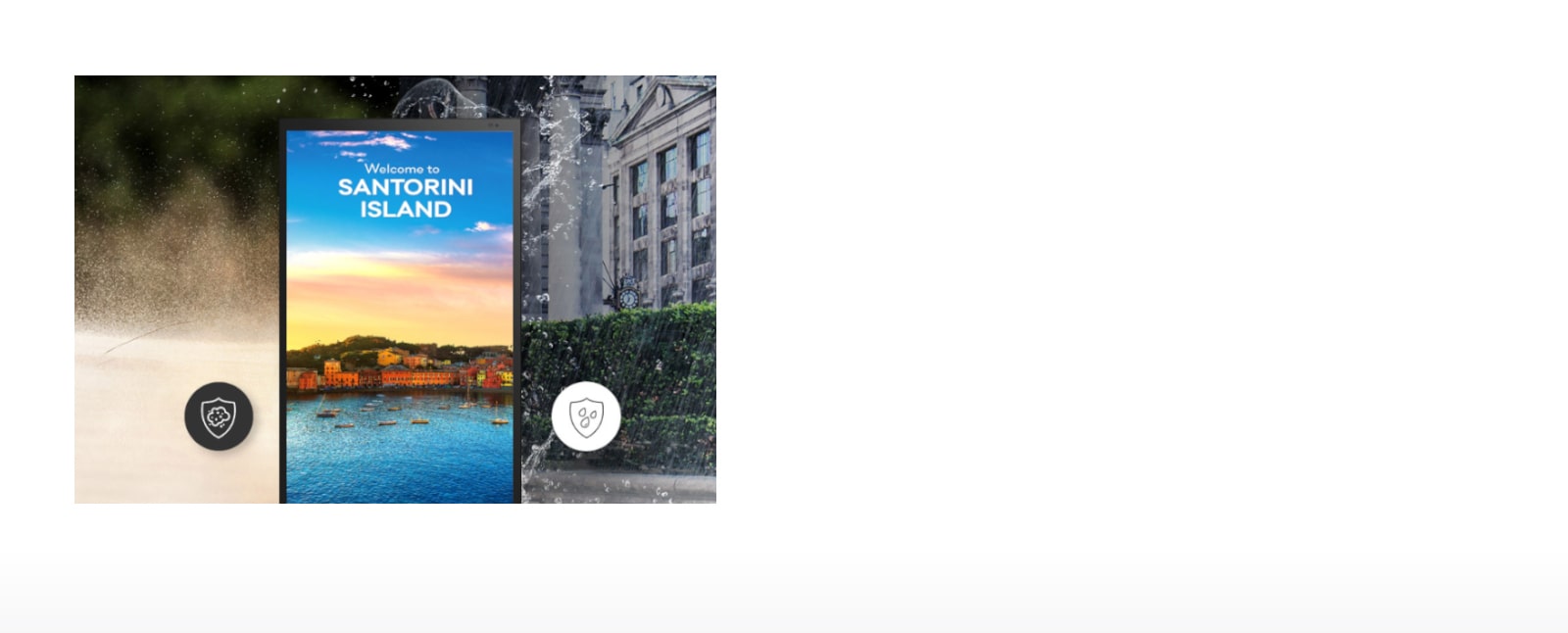 RELIABILITY FOR OUTDOOR USAGE
Secured Protection with IP56 Design
The XE series is sealed with IP56 design, ensuring reliable operation. This display has been tested to not allow water ingress with water jets, nor will dust enter the unit in sufficient quantity to interfere with the operation of the equipment.

RELIABILITY FOR OUTDOOR USAGE
Protective Glass (IK10 Certified)
Tempered and laminated front glass ensures high level protection from external impacts.
*The image is for illustrative purposes only
EASY MAINTENANCE
Support HDBaseT ™
XE4F Series support HDBaseT ™, the global standard for the transmission of ultra-high definition video & audio, Ethernet, controls, USB and IR over a single, long-distance cable, for easier control of the display and saving installaiton and maintenance costs.
*XE4F Series don't support the power supply.
*HDBaseT™ transmitter not supplied by LG.
EASY MAINTENANCE
Web Monitoring
This web-based monitoring solution is user-friendly. It enables users to monitor the display from anywhere at anytime using their mobile phone while having access to both current and past data. It allows users to also make adjustments and control the unit